Blog
CORONAVIRUS CLEANING - DECONTAMINATING YOUR BUSINESS
PUBLISHED: 30/04/2020
The Waste Team can help your business reduce the risk of coronavirus. Our team are trained in cleaning and removals for safe and effective decontamination. We are experts in the safe and secure cleaning of offices, education environments, council buildings and more.
By using the world class environmentally friendly disinfectant, TECcare CONTROL, we can kill the coronavirus and 99.99% of other viruses. TECcare CONTROL has proven to work against many different types of coronavirus, including SARS.
---
BUSINESS AS USUAL: CORONAVIRUS UPDATE
PUBLISHED: 01/04/2020
At The Waste Team, we're taking every precaution to protect you and our employees during the current COVID-19 pandemic. As key workers, we are still fully operational and are providing our services for both domestic and commercial waste removal work. We are now offering completely contactless waste removal services, where you can pay by BACS or over the phone and leave your waste outside where we can access it. For commercial sites, we can organise out of hours waste collections to ensure the safety of your employees. We are making every effort to ensure the safety of our customers and colleagues, so will be respecting all social distancing guidelines and we always wear gloves as standard. If you have any questions, please don't hesitate to contact us on 0113 256 8853. Keeping Leeds clean and safe is our top priority.
---

LEEDS UNITED - The Team Behind The Team
PUBLISHED: 04/02/2020
We continue our partnership with Leeds Parks and Countryside Service
sponsoring their great work in our amazing City with our The Waste Team ft Leeds United signs at Elland Road.
We are The Team behind The Team!
Here we go with Leeds United,
We're gonna give the boys a hand,
Hard graft and clean up Leeds united,
They are the greatest in the land,
na na na
Everyday, The Waste Team work hard,
To clean up Leeds! Leeds! Leeds!
Everywhere, cleaning waste cos we care,
We, love you Leeds! Leeds! Leeds!
Marching On Together!
We're gonna see you clean
na na na na na na
We are so proud,
We de-clutter your ground we love you Leeds! Leeds! Leeds!
We've been through it all together,
And we've had our ups and downs (UPS AND DOWNS!)
We're gonna clean your grounds forever,
at least until the world stops going round
na na na
Everyday, The Waste Team work hard,
To clean up Leeds! Leeds! Leeds!
Everywhere, cleaning waste cos we care,
We, love you Leeds! Leeds! Leeds!
Marching On Together!
We're gonna see you clean
na na na na na na
We are so proud,
We de-clutter your ground we love you Leeds! Leeds! Leeds!

We are so proud, we shout it out Loud we love you Leeds Leeds Leeds!
How Do The Waste Team Help Leeds?
Well, other than our true support for Leeds United(!), The Waste Team recycle 90% of all the waste we collect, we take part in volunteering projects across Leeds and beyond to remove items that have been fly tipped in community areas and we are 100% committed to limiting the environmental impact of our activities.
You can trust The Team behind The Team to help keep your local area clean and green! Call us today on 0113 256 8853 or complete our online form and a member of the team will be in touch shortly.
---
Fly Tipping - Leeds Plagued with Fly Tipping Issues
PUBLISHED: 21/01/2020
Fly tipping has increased aggressively in the past couple of years in Leeds, with so many streets, estates, parks, and school grounds plagued with fly tipping issues.
The Waste Team have seen huge spikes of enquiries around fly tipping clean ups after Christmas and New Year. There is always an increase of fly tipping during public holidays as, council properties especially, are left unattended.
LeedsLive report that "Leeds is the country's fly-tipping capital – with more illegally dumped rubbish than anywhere else in the country"
With waste, attracting even more waste, schools, parks and council properties are faced with an unsurmountable amount of rubbish dumped on their property creating fly tipping hotspots.
The Waste Team have been called in to help many councils clear their sites, protecting them from prosecution due to other people's household waste being dumped illegally. We've cleared everything from fridges to tyres and other vehicle parts.
How Can The Waste Team Help?
The Waste Team remove fly tipping waste in a professional manner and supply transfer notes, producing certification of our Waste Carriers License. For fly tipping clean up by trusted professionals contact us today on 0113 256 8853. We recycle 90% of all the waste we collect and we're always happy to help!
---

Startling Waste Stats Make for a less Than Merry Christmas and a Rubbish Filled New Year.
PUBLISHED: 6/12/2019
There are some seriously shocking statistics around Christmas rubbish that we need to share. From the amount of Christmas wrapping paper wasted every December to the masses of uneaten sprouts that have been begrudgingly boiled, chopped and even fried for the 'perfect' Christmas dinner.
Let's Start with the Shocking Statistics
The Independent reported that 'more than a billion Christmas cards are likely to be dumped or burnt – which, laid end to end, would stretch around the world five times.'
And they didn't stop there, reporting that 'About 83 square kilometres of wrapping paper will also be thrown out or burnt – enough to gift-wrap the island of Jersey.'
The waste cards and presents create isn't even the half of it. Think of all those Christmas dinner parties, including the big event! That turkey needs wrapping in foil to keep it juicy on the inside, but what happens to the foil? Well Gov.uk reports that 'enough tin foil to cover Suffolk' is thrown out around the Christmas period, whilst phs Wastekit report that '17.2 million Brussels sprouts' go uneaten.
It's not that surprising to us that Britain alone, creates millions of tonnes of waste over the Christmas period. What is surprising is the lack of appropriately disposing of our rubbish and the majority of it ending up in landfill. Recycling is such an easy way to make a difference, however a poll by Sky news reveals that 'A quarter of people (23%) said they were too busy during the period to worry about how much plastic they were using, and 22% claimed there was too much waste in their homes over Christmas to be able to recycle it.'
How Can The Waste Team Help?
The Waste Team will do all the hard work for you. Consume all the stuffing you want, tear open as many presents as you can and have all the unwanted Christmas rubbish removed while you sleep off the Christmas bloat! We will deliver a 1 tonne bag to you on Sunday 22nd December and then be back to collect it, filled with uneaten sprouts, foil, and all the Christmas waste you can think of, on the 27th December.
We recycle 90% of all the waste we collect, so let us do the hard work for you and reduce the amount of waste going to landfill this Christmas.
To find out more about our Christmas rubbish collection click here or call us on 0113 256 8853.
---

Litter Picking at Meanwood Christmas Lights Switch on
PUBLISHED: 18/11/2019
On Friday 15th June The Waste Team met Santa!
We love helping out at community events, so when we heard that Meanwood were hosting their Christmas lights switch on we were more than happy to grab our litter pickers and take to the streets. We had a great time chatting to the community and as always, we managed to recycle 90% of the rubbish we collected. Thanks for having us Meanwood!
The Waste Team are always available to help with any type of waste removal, from community litter picks to home and office clearances, and we're committed to recycling 90% of what we collect. If you need a friendly, reliable rubbish removal service, get in touch with our team today!
---

3 Rubbish Disposal Techniques that are Bad for You and the Environment
PUBLISHED: 01/11/2019
Rubbish Removal via Burning
It might be bonfire night, but don't do it!
Burning your rubbish is bad for you, your neighbours and the environment. Not only does it cause some seriously bad smells, but it can cause air pollution. Particularly if you're burning something damp, this will cause a lot of smoke which can be really harmful to people who suffer with asthma and heart conditions.
We've seen people lose control of their fires too, burning their garden fences in the process.
Rubbish Removal via Fly-Tipping
Fly-tipping is illegal, and you can be prosecuted. Prosecution can involve imprisonment and substantial fines of up to £50,000. That should be enough of a reason not to do it! But if you need more, here goes:
It causes local areas to look run down and uninviting
Uncontrolled rubbish removal can be hazardous to the public
If the rubbish includes asbestos, then it can be seriously harmful
It affects soil quality in the area the rubbish is dumped
There's a risk of damage to watercourses in the area
Rubbish Removal via the Street
People often don't see this as fly-tipping, but it could still be seen as this. Even if it's a fridge that you're offering for free, it makes the local area look run down and neighbours are usually very unhappy with it! If you're wanting to give something away then a charity shop is a much better, tidier and appropriate option.
Rubbish Removal the Right Way!
If you have rubbish you need to get rid of, please don't do any of the above! Contact our friendly team and we'll assist in any way we can. At The Waste Team, we provide the easiest and greenest way to get rid of your waste. All you have to do is get in touch, pick and date and time for your rubbish to be removed, then sit back and relax whilst we take care of the hard work and the waste removal! We are committed to recycling up to 90% of the waste we collect.
---

The Changing Nature of House Clearances
PUBLISHED: 22/10/2019
House clearances are the best and worst part of our job.
A lot of the time we've been instructed to carry out house clearances due to a death in the family, such as someone's parent or another close relative. As part of our service, we meet the family and walk the property and deliver the quote. It's often under very sensitive circumstances, therefore we always ensure we are extremely professional and offer our support throughout the whole process.
A recent house clearance lead us to thinking about how people's habits have changed over the years, especially thinking about why the older generation hoard so much. They didn't have iPhones when they brought up there kids, so if their children brought something home, for example if they made a toy and it conjured up a memory, they kept it. Nowadays, instead of keeping memorable items, we record and take pictures of it all and instead store it in a cloud, throwing it all away.
For everyone at The Waste Team, we realise what a privilege it is to walk round someone's property - whilst very sad it's also quite a beautiful thing to see. It's a map of their life with physical memories all around.
As we watch house clearances change throughout the years, we're sure that we'll start to notice that younger people will hoard less as now their memories are stored in the cloud rather than in their house.
So, whilst we still have relatives who are hoarding, don't think "Wow look at all that stuff", instead think that all that 'stuff' is there for a reason and that reason is quite beautiful.
It's days like these where you get to take a step back and look at what you're doing and realise sometimes how important our job can be. We make it all the better by providing a quick and efficient service; recycling up to 90% of the waste we collect so you know that only a minimal amount of waste from our house clearances will go to landfill.
---
The Waste Team Mattress Collection
PUBLISHED: 14/10/2019
We collect and process 50-60 mattresses per week sometimes wet, always soiled.
Every mattress is stripped and the steel coils sent for recycling, this steel is then used to build appliances, cars, ships and so much more. A drop in the ocean but one of the many ways we are trying to sustain our planet.
Contact The Waste Team today for your junk and waste removal services.
---
We do the lifting and shifting... FAST!
PUBLISHED: 08/10/2019
We're the ✅ EASIEST and ♻️ GREENEST way to get rid of your waste. No matter what junk and waste you need to get rid of, save your precious time and call in The Waste Team.
We offer same day service waste removal and are committed to getting rid of your waste quickly and efficiently. We also honoured our 90% recycling promise from this garden waste removal video.
---
No rest for the wicked, bank holiday clear out.
PUBLISHED: 31/08/2019
On the 28th August, a shop fitting firm from down south called us late on Bank Holiday Sunday. They had pulled up the floor at Pret in town and needed our help to clear it out. We arrived first thing Bank Holiday Monday ready to give up our bank holiday weekend and crack on with some commercial waste removal!
Using The Waste Team is one of the quickest, most reliable routes to get rid of your waste. If you're looking for a trusted, fair minded waste carrier who work 24/7 then you're in the right place. Contact our team today for more information on our waste removal and commercial waste clearance services.
---
The Waste Team clears way for new Rolex store
PUBLISHED: 07/08/2019
On 6th August, The Waste Team attended Victoria Gate in Leeds out of hours to clear out a space for a brand new Rolex shop. As fully CHAS registered waste removal and commercial clearance specialists, The Waste Team can be trusted to professionally clear out your commercial property - whether you're moving out, moving in or refurbishing.
With this particular job, we were able to accommodate out of hours access to minimise disruption, we protected the floors to ensure no mess was made, 3 tons of plasterboard was removed, but unfortunately our fees didn't quite cover the cost of a £15k watch!
Contact The Waste Team today for more information on our commercial waste removal and clearance services.
---
Biscuit, anyone?
PUBLISHED: 31/07/2019
Rationing in the UK began during WW1 because we were at war, yet was stopped in 1954. 65 years later, food is going to waste - and believe it or not this is 2 tonnes of out of date food hoarded by one individual at a domestic house clearance.
Whether they feared an apocalypse or WW3, the environment this food has come out of meant it was not able to be reused to feed the homeless or for any other food projects. This is a crying shame and just shows what we've become as a society, not taking responsibility for the impact of our waste on the environment.
As individuals we need to act, then collectively we can make a difference. In the meantime, The Waste Team will be here to continue collecting your personal waste or rubbish and disposing of it in a safe way. We have a commitment to the environment to recycle 90% of the waste we collect.
---
Red Leopard has it's last dance
PUBLISHED: 25/06/2019

On 24th June, The Waste Team attended the iconic Jubilee House building on The Headrow to clear out the former Gentleman's club, Red Leopard. It's fair to see this building has quite a reputation and so it was our honour to clear it out in style and to be called in for our commercial waste removal services.
We performed a full commercial clearance service, collecting all fittings, furniture and waste to be safely recycled and destroyed.
In total, it took 8 of our finest men 4 days to clear the place out, including:
5000 SQM of carpets taken up and removed
600 cubic yards removed and disposed of
107 rooms cleared
30 temporary site lights
25 van loads
7 floors
2 tons of confidential waste destroyed
If you want to know more about our commercial waste removal services, contact our team today.
---
Meet The Team
PUBLISHED: 31/04/2018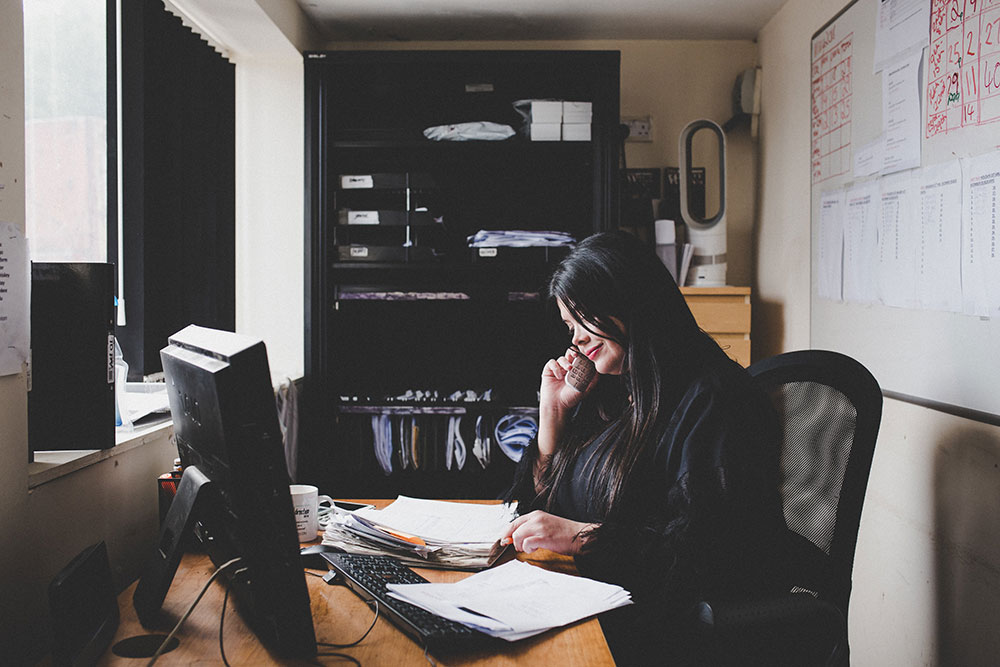 Contact our friendly team of experienced professionals for all your junk and waste removal queries and we will assist in any way we can with our knowledge and expertise.
---
Garden Waste Removal Leeds
PUBLISHED: 31/03/2018
Is your garden summer ready ??
Are you tired of asking your husband to pull his finger out?
Are you sick of your wife nagging you to do something about it when your trying to watch the football in peace?
Upload your picture on the web enquiry form and save your relationship or give you both some breathing space while we get back to you with a quote :)
The Waste Team, saving relationships all over Yorkshire