Environmental Responsibility
You can trust The Waste Team to help keep your local area clean and green
All of us at The Waste Team are environmentally responsible.
We consider all the environmental effects our business and individual actions have on the local community and the wider world.
How do The Waste Team reduce consumption and minimise our impact on the environment, with a huge focus on recycling?
Environment Agency registered Waste Carrier Number: CBDU124810

Reducing Waste
The Waste team recycle 90% of the waste that we collect as a business.
Our customer's journey is always paperless.
We never just throw out a pair of rubber gloves. We operate a glove cleaning rota to reduce waste.
Tools break, but we don't bin them. We have a dedicated team member who fixes all of our tools for a longer life span.

Transport Solutions
The Waste Team Director drives to quotes in one of the vans used for waste removals and, wherever possible, carries the job out there and then.
3 of The Waste Team staff members run to work and/or home.
1 of The Waste Team staff members walks to and from work.
Our whole fleet is Euro 6 compliant and in line with clean air submission rules.

The Community
The Waste team take part in volunteering projects across Leeds and beyond to remove items that have been fly tipped in community areas.
We sponsor The Camp Detox Boxing Club in Leeds

Home Life
We all prefer to ride our bikes over driving where we can.
Family life is centred around The Waste Team ethos. We recycle as much as we can within our homes.
---
The Waste team are 100% committed to limiting the environmental impact of our activities. The whole team have high standards when it comes to energy efficiency and environmental safety.
You can trust The Waste Team to help keep your local area clean and green! Call us today on 0113 2568 853 or complete our online form and a member of the team will be in touch shortly.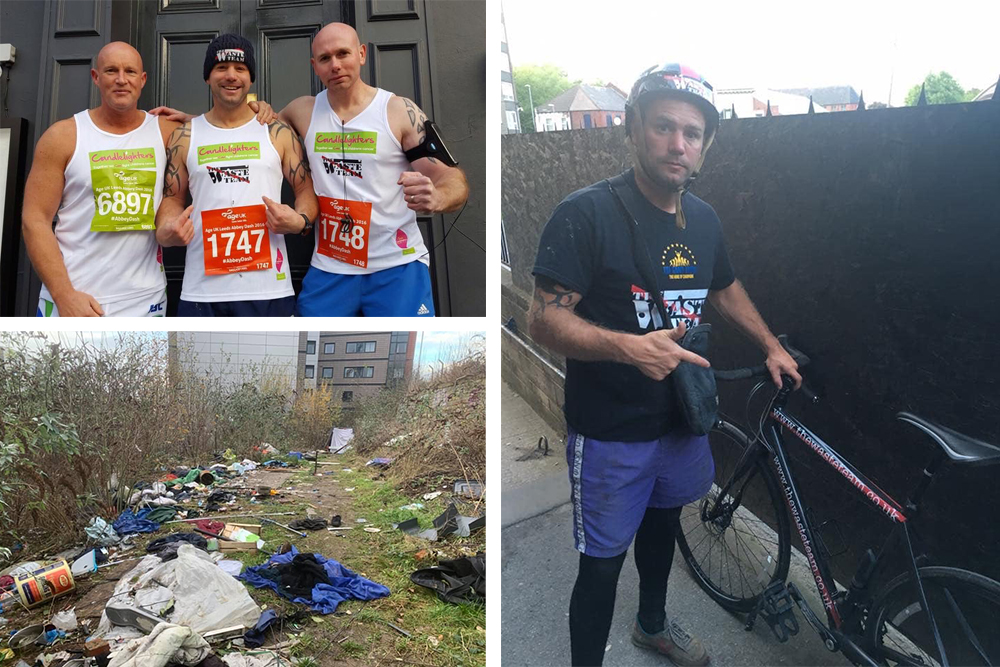 Charlie, Castleford
"If you need waste shifting don't look any further, just had these guys out, they came on time, no messing around, was able to take everything without a problem, will certainly be using them again, thanks guys. "

Angela, Leeds
"Fantastic service rung Saturday morning and they were at my house within half an hour removing the rubbish and made a hard job look easy. Thanks guys."

Irene, Leeds
"Arrived promptly this morning and got straight onto clearing a big mound of rubbish in back garden from clearing house , in double quick time. Very courteous lads, left it all clean and tidy for me. Even carefully placing a frog that had taken residency under the rubbish, away into the hedges out of harm's way "

Ken, Leeds
"The waste team came this morning and cleared all my rubbish with no fuss and no problem . The lads were on time and got started straight away very good value for the money and you don't have to lift a finger very happy thank you so much. "

Leanne, Huddersfield
"Customer service was fantastic the lovely girls dealing with all the bookings over the phone and the guys that came out to clear all waste outside my home including emptying my cellar which was a massive job were all fantastic, they got on with the job as soon as they arrived they were up front and honest with the price and the work that was going to be carried out! they really did a fantastic job on a task that was huge!"

Chris, Harrogate
"Fantastic service from the Waste Team this morning clearing my disgusting tarantula ridden garage. The team were professional, courteous, and friendly, they had the garage cleared in next to no time with a great clean up job at the end. I wouldn't hesitate to recommend you to my family and friends, an excellent service at a very reasonable cost. Many, many thanks."
Call us for a FREE, no obligation quote on: 0113 2568 853