Get Your Garden Summer Ready
PUBLISHED: 16/6/2022
After kicking off our summer blog series last month, we're back to offer more top tips to give your garden the ultimate transformation. With summer officially just around the corner, we suspect some of you are wanting to get the garden ready sharpish!
So, sit back and start planning your garden transformation with our summer garden tips.
Take a Seat
It's surprising what a lick of paint can do to give your garden furniture a fresh look, but if your guests are likely to fall through the chair - it's time for an upgrade! We can assist with the removal of old furniture to make space for your brand new garden dining set!
Splish Splash!
A pond or small fountain is a great addition to any garden. Water features offer an additional focal point, as well as providing ambience with the trickling of the water. You can close your eyes and be transported to anywhere in the world.
Laughter is in the Air
If you have children, why not let them have an input to create their very own garden space? Ask them what they would enjoy in the garden - a swing, a trampoline, a tree house?! Let your kids' imagination run wild; if you're able to construct an area they'll use and play in, family time in the garden will be a joy for all.
Putting Your Garden Waste to Good Use
Now we've covered some of the fun stuff, let's talk about what you can do with the hedge trimmings, branches, tree roots and grass cuttings you've got piled up! Of course, we're here to whip it all away in a flash, but here's a few tips to reduce the amount of waste you generate.
Light Up the Night
We all like to make the most of the light nights and a chiminea or fire pit is a much-desired feature in many gardens. Using small dry twigs as kindling can reduce the waste pile; or, if you want to get a head start for next year, here's some tips on how to season logs. Make sure you only burn dry logs - don't burn damp logs or any other garden or domestic waste.
Create a Bug Hotel
Gardens are fabulous for our tiny insect friends but if you'd like to go one step further, why not consider creating a 'bug hotel' where they can set up camp?
Pots and Planters
If you've dug up soil to build a pond, use some of that soil to fill planters for other areas around the house and garden.
Who Can Take Away My Garden Waste?
Don't let the worry of how you're going to dispose of your garden waste delay your grand plans – The Waste Team is on hand to help with garden and domestic waste removal across Leeds and Wakefield.
In fact, we're here to clear all manner of waste – whether at home or in the office. Contact The Waste Team to see how we can help you. We are licensed waste removal experts and we recycle 90% of the waste we collect, to help keep Yorkshire as green as your garden.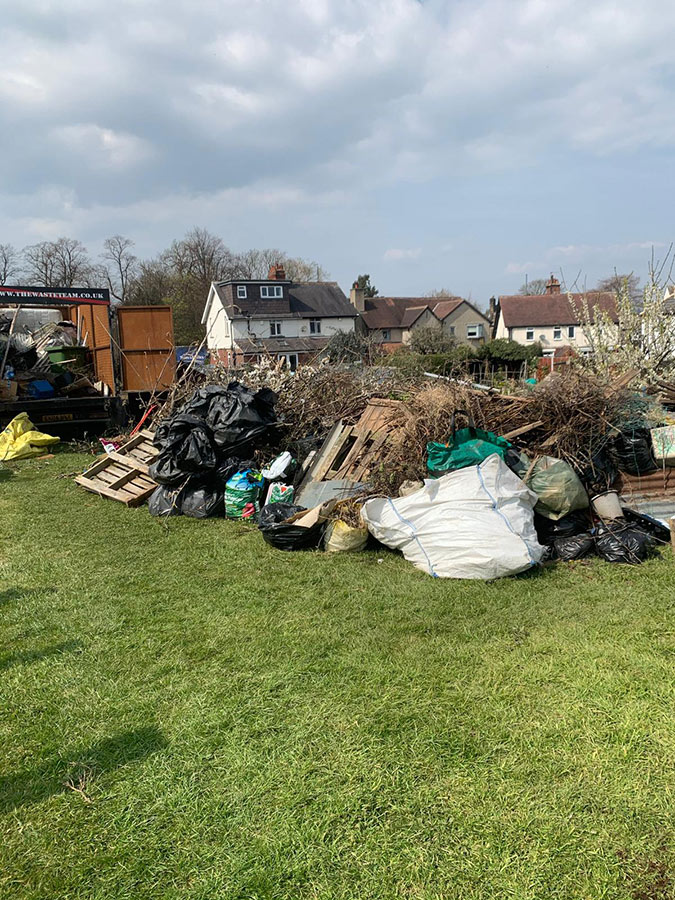 Call us for a FREE, no obligation quote on: 0113 2568 853